Training Courses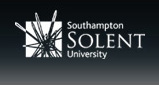 Scaled ship handling courses

Warsash Maritime Academy
Meester pilot where are you? Again!!
You will recall that in 2006 the APL Panama spent a 4 month Holiday on the beach off Port Ensenada in Mexico (Summer 2007 issue). Last September the news had obviously reached Maersk that beach holidays were available in Mexico because on September 1st 2007, the 291m container vessel Maersk Diadema (ex Charlotte Wulff) ran aground on the approach to the Mexican port of Lazaro Cardenas. No pilot was aboard at the time of the incident.
From the Internet. Photographer unknown.
Although there are very few details concerning this incident, it would appear that the Maersk Diadema was inbound while another Maersk vessel was outbound. The outbound pilots were supposed to board Maersk Diadema and take her in but bad weather and the excessive speed of the vessel resulted in the vessel going aground on a sandbank before the pilot could board. Three local tugs were despatched to tow the ship off but were unable to do so. Titan Salvage were contracted by the German owners on 4th September to refloat the vessel and successfully completed the salvage on 5th September. Fortunately there were no casualties and no pollution.
At a time when pilots are under attack from many industry sectors for failing to integrate into the ship's "bridge team" this is yet another incident that seems to confirm that when vessels are approaching pilot boarding areas, the bridge team seems to switch off in anticipation of his arrival. I (and I am sure the majority of you) have been horrified to see ships placing themselves at extreme peril by ceasing to navigate once they see the pilot cutter approaching. Just recently, one remarkably brave (stupid) Master decided to anchor his ship right on the pilot boarding "diamond". This diamond is of course used as a waypoint in the GPS so vessels head straight for it. Although my vessel had been advised of the boarding heading to provide a lee, myself and the cutter crew watched in amazement as my vessel scraped past the anchored ship prior to altering course for the lee and the cutter crew informed me that they had witnessed several other ships do the same. The ship at anchor remained there for over 24 hours and it seems quite remarkable that no other vessel collided with it. Pilots are being blamed over "one person error" but the facts are that the navigation of some bridge teams is alarmingly incomprehensible! JCB
Leave a Reply